How To Make Your Sugar Daddy Relationship Last
Not all relationships are meant to last FOREVER. Unfortunately, this may be even more true for
extend your stay
in each other's lives.
1. Cook
Cooking together is a great way to talk but have a
healthy
distraction of whatever makes your mouth water while still spending good time together.
2. Eat Food Together
So you have done dinner but what comes next? Why not pop some popcorn and watch a movie you have never seen or a movie you
both
enjoy.
3. Board Games
Feeling
competitive
, but in a healthy way? See who can stand the test of monopoly. There is nothing that says longevity like making it to the end of that particular game.
4. Music
Whether you enjoy conversing over smooth jazz or blasting your favorite new top 40 playlists, press play or crank them up to have a meaningful conversation about the music you both love or start a spur-of-the-moment
dance party
in your living room.
5. Take A Drive
A little bit of scenery never hurt anyone. You can sit in silence and
enjoy
the view or talk while you watch the world pass you by.
6. Get Creative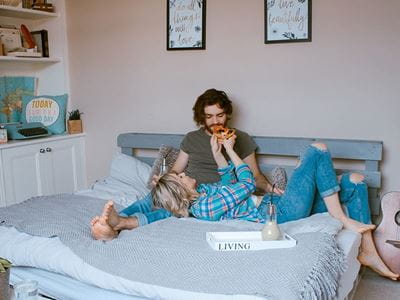 Are either of you an artist of some kind? Whip out the paint and brushes or pull out the acoustic. It never takes too long for a creative person to involve others to enjoy their craft. Have FUN with it!
7. Dinner in Bed
I do not know about you personally, but if I could marry my bed, I would. Considering food was my number one and number two you also know how strongly I think the daily activities we solemnly enjoy but take for granted can be turned into something more. Chow down and then
relax
and leave the dishes till morning.
8. Get Dressed Up
This can go both ways maybe you both are inclined to wear suits everyday to work. Dress down in your comfiest clothes or get spruced up and hit the town. Either way can do the trick. Just flip it and reverse it and
enjoy
.
9. Write a Poem
Or if you were good with that acoustic up there, write a song. This one is one you can do on your own but it is the reaction that counts.
10. Surprises at Work
This is the place you most likely do not see each other. Since you met online, sending some flowers or showing up with a
surprise
to the workplace is a great way to show you are there for partner. Just make sure they do not have an important business meeting and you are not standing outside yelling that awesome poem you wrote like a real
love
, and prosper my friend.
Seeking Private Arrangements? Read This Review Now!